From Protoi Healing
欢迎来到Protoi Healing!
---
从疾病的困扰中解脱出来!  
本网站为您提供了一种全新的疗愈。 
我们的Protoi,开发了许多新种能量疗愈。 
所有治疗是免费的。
一些这里提供的疗愈将需要工具。
您可以在一个非常合理的价格购买该工具。
很多种类的能量疗愈可以与我们的免费疗愈水晶应用。
疗愈工作原理是利用物理,不是信心。 

更多关于这里的免费疗愈水晶.
The Healing Cards
---
Protoi Healing Cards are a massive breakthrough in addressing specific diseases / ailments. Covering nearly every affliction known, these cards can be used to treat the cause of such directly at their source or rather sources, since every one of them can have many different sources in more than one level.

No more 'spray and pray'!

No more 'sit and wait'!

This is the most powerful energetic healing available on Earth!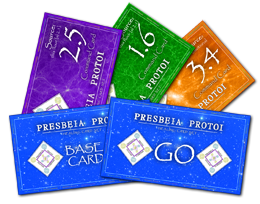 A healing card set includes:
1 Base Card
This card is the healing tool, it contains the healing crystals in a metal disc.
30 Command Cards
These cards contain the healing commands and programs for the healing tool.
1 Go Card
This card ends the "programming" of the tool and starts the healing.
More about the Healing Cards here.
What is Protoi Healing?
---
Protoi Healing is new energetic healing which works on the Reality Mechanics that dictate what we call 3D or 3D physics. The source of most maladies are not found in our physical, 3D world. Their true causes are often energetic and invisible. Protoi Energetic Healing targets the roots of disease, its energy supply. Remove the energetic causes of the disease, and the body heals itself naturally.

This is not 'spirituality'!

This is physics!

This is technology!.

No belief or faith required!

More about Protoi Healing here.
Protoi Healing Forum
---
There is also a lot of additional information in our Protoi Healing Forum,

where you can find testimonials regarding our free healing crystals and especially our healing tools.

Register with us, ask your questions, get answers to your questions for free and share your experiences with others!
What is Protoi?
---
The "Protoi" are beings/entities that are tasked with providing the needed help and support for growth and evolution. The main job of the Protoi is to produce the needed energies to satisfy the requirements and evolutionary needs of all entities/beings in creation. Energy should always be readily available to all for whatever purpose as long as it falls within the premise of the "Five Light Rules":



Every being has to be free.

No being is allowed to do illegal harm to other beings.

(Self-defense is legal.)

Every being has the right to get the energies which are necessary for its own existence.

Every being has the unconditional right of its own integrity.

Every being has an unconditional right of individual evolvement.

The Protoi works to ensure that all beings/entities can safely grow, learn, enjoy and evolve in life through the above rules.
More about Protoi here.
Disclaimer
All content posted on this site is commentary or opinion and is protected under Free Speech. It is your right to educate yourself in health and medical knowledge, and to seek helpful information and counsel for your own benefit, and for that of your family. You are the one ultimately responsible for your health. This website offers instructions in energy healing techniques. Neither this website nor its owner is an accredited, licensed or certified school and the owner of this website is not a physician or licensed health care provider. The information, the views, services and products available through this site is not intended or implied to be a substitute for professional medical advice, diagnosis or treatment but as an alternative for those who are seeking solutions for better health. We do not claim to "cure" disease, but simply help you make physical and mental changes in your own body in order to help your body heal itself.

Full disclaimer