From Protoi Healing
Willkommen zur Protoi Heilungs-Wiki!
---
Befreie Dich selber von Krankheit und Leid!
Diese Seite bietet Dir eine komplett neue Art und Weise der Heilung an.
Wir, die Protoi, haben viele neue Varianten der energetischen Heilung entwickelt.
Jede HEILUNG ist KOSTENLOS.
Die Werkzeuge für bestimmte Arten der Heilung werden hier zur Verfügung gestellt.
Sie können die Heilwerkzeuge zu einem sehr vernünftigen Preis bei uns erwerben.
Alle anderen Arten der Energetischen Heilung können mit unseren kostenlosen Heilkristallen durchgeführt werden.
Die Heilung funktioniert durch Physik, nicht durch irgendeinen Glauben.


Mehr über die kostenlosen Heilkristalle hier.
Die Heilkarten
---
Protoi-Heilkarten sind ein massiver Durchbruch in der Adressierung spezifischer Krankheiten / Leiden, sowie in der Entfernung dieser. Dank einer riesigen Datenbank decken sie fast alle bekannten Krankheiten ab, wodurch sie direkt an der Quelle (oder an mehreren Quellen, manche Krankheiten können auf mehreren Ebenen ihre Quelle haben) der Krankheit anpacken können und diese zuverlässig entfernen können.


Kein "Abwarten und Tee trinken" mehr!


Das ist die stärkste energetische Heilung, die es auf der Erde gibt!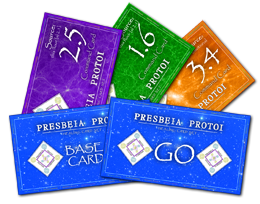 Ein Heilkarten-Set beinhaltet:
1 Basis-Karte
Diese Karte ist das Heilwerkzeug. Sie beinhaltet die Heilkristalle in einer Metallscheibe die in der Karte steckt.
30 Kommando-Karten
Diese Karten beinhalten die Kommandos und Programme die die Basis-Karte benötigt um agieren zu können.
1 Los-Karte
Diese Karte beendet die "Programmierung" der Basis-Karte und startet die Heilung.
Mehr über die Heilkarten hier.
Was ist "Protoi Heilung"?
---
Protoi-Heilung ist eine neue Art der Heilung, der sogenannten energetischen Heilung, die mit den "Realitäts-Mechaniken" arbeitet, welche unserer Physik, wir nennen sie 3D-Physik, ihre Eigenschaften und Funktionalität gibt. Die Quelle(n) der meisten Leiden sind in unserer physikalischen 3D-Welt nicht aufzufinden. Ihre wahren Gründe sind sehr oft "energetischen" Ursprungs und somit für uns "unsichtbar". Die Energetische Heilung der Protoi zielt auf die "Wurzeln" der Krankheit oder auch ihre "Energielieferanten" und entfernt diese. Wenn man die energetischen Hintergründe einer Krankheit entfernt, so heilt sich der Körper von selbst über einen natürlichen Weg.

Das ist keine "Spiritualität"!

Das ist reine Physik!

Das ist "Technologie"!

"Keine Religion oder Glaube wird dazu benötigt!"

Mehr über Protoi Heilung hier.
Protoi Heilungs-Forum
---
Es gibt außerdem noch viele zusätzliche Informationen in unserem Protoi Heilungs-Forum,

Dort kannst Du Erfahrungsberichte zu unseren kostenlosen Heilkristallen und besonders zu unseren Heilwerkzeugen nachlesen!

Registrier Dich wenn Du Fragen hast, die Du gerne beantwortet haben möchtest oder wenn Du einfach nur Erfahrungen mit anderen austauschen möchtest !
Was ist "Protoi"?
---
Die "Protoi" sind "Wesen/Entitäten" die damit beauftragt worden sind die nötige Hilfe und Unterstützung zu gewährleisten, die man für ein gesundes Wachstum und eine gesunde Evolution benötigt. Der Hauptauftrag der Protoi ist es soviele Energien zu produzieren wie nötig ist, um jedes Wesen/jede Entität in dieser Schöpfung / Creation ausreichend zu versorgen um eine positive Evolution zu garantieren. Energie sollte immer ausreichend für jeden zu egal welchem Zwecke zur Verfügung stehen können, insofern sich diese Handlung an die "Fünf Lichtregeln" halten, die wie folgt lauten:



Jedes Lebewesen muss frei sein.

Keinem Lebewesen ist es erlaubt illegalen Schaden an anderen Lebewesen auszuüben

"(Selbstverteidigung ist erlaubt.)"

Jedes Lebewesen hat das Recht die Energien zu erhalten, die notwendig für seine eigene Existenz sind.

Jedes Lebewesen hat das unangefochtene Recht auf seine eigene Integrität.

Jedes Lebewesen hat das unangefochtene Recht auf eine Individuelle Entwicklung

Die Protoi arbeiten unter Berücksichtigung dieser Regeln daraufhin um versichern zu können, dass alle Wesen/Entitäten in Sicherheit wachsen, lernen ,Spaß haben und sich im Leben entwickeln können.
Mehr über Die Protoi hier.
Disclaimer
All content posted on this site is commentary or opinion and is protected under Free Speech. It is your right to educate yourself in health and medical knowledge, and to seek helpful information and counsel for your own benefit, and for that of your family. You are the one ultimately responsible for your health. This website offers instructions in energy healing techniques. Neither this website nor its owner is an accredited, licensed or certified school and the owner of this website is not a physician or licensed health care provider. The information, the views, services and products available through this site is not intended or implied to be a substitute for professional medical advice, diagnosis or treatment but as an alternative for those who are seeking solutions for better health. We do not claim to "cure" disease, but simply help you make physical and mental changes in your own body in order to help your body heal itself.

Full disclaimer